I got up early in the morning and made a circut around San Francisco Bay by rail. I started off at about 7AM at El Cerrito Norte to catch BART. I don't use Richmond BART because of the high crime. My car has out of state plates, so that makes it an easy target, I think. I wanted to ride a Baby Bullet CalTrain. That was my main objective by starting off early.
The first train I caught was BART six car Fremont bound train.
I was in car 1612. I (and nearly everyone else on that train) transferred to a 10 car Daly City bound train at MacArthur station. For that ride, I was on car 1681.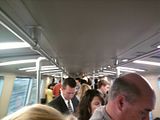 We crossed under Oakland and over West Oakland and under San Francisco Bay to Embarcadero station.
The stations in San Francisco under Market Street are kinda creepy knowing there are major earthquake faults there. What it is: Market Street is on top. There are buses, cars, trucks, and streetcars. At two of the intersections are the world famous Cable Cars. Go one level down and there is a ticket concourse. A person can purchase tickets for BART and MUNI as well as cross Market Street safely. The next level below that is the MUNI light rail. And, finally, the next level below that is BART. Four stations along Market are set up this way. I had to transfer trains at Embarcadero Station. I had to go up from BART to the ticket concourse, purchase a MUNI light rail ticket, then go down one level to the MUNI light rail.
At Embarcadero, I got on an outbound one car T-Third Street train number 1509.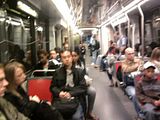 Above ground once again!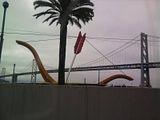 This time for good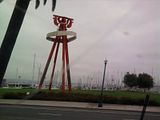 I don't know what the names of these works of art are. I didn't get off the train to find out. They are along the Embarcadero. Maybe one day, I will walk along there and find out. However, as we were stopped, for what seemed like an eternity, next to AT&T Park (Home of the San Francisco Giants baseball team)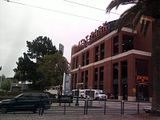 I noticed we were also in front of an office for Current TV Network
(shout out to Brett Erlich!) We sat there between stations for a good 10 minutes. Actually, it wasn't that good. I could see King and 4th Streets where I needed to be to catch my train. If I missed that Baby Bullet, I would have to call off the whole mission. There was not another one leaving San Francisco until 4:09PM. So, there we sat. Between stations. Not able to get off and sprint to the train I needed. Finally, we got moving. Around the corner. Which ment I had to dodge traffic to get to the station. Not a problem as I grew up in Oregon. We are natural born jaywalkers. We do it without holding up traffic. Take notes, rest of the world!
Yes! I finally made it to King Street Station!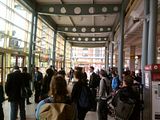 Turns out, I had about 10 minutes to spare. As I was waiting, a "local" CalTrain came in from San Jose.
CalTrain only runs between San Francisco and San Jose and sometimes to Gilroy, south of San Jose. Those cars look interesting. They are double decker throughout but are open from the upper floor to the lower floor. Unlike the tri-level cars I was on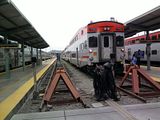 Here is how they look (almost) side-by-side: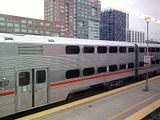 The "Baby Bullet" is actually a limited stop train. Nothing fast about it, just that it makes fewer stops. The coaches they use for this service are the same as the coaches used by many other commuter rail services like Sounder between Everett, Seattle and Tacoma in Washington state.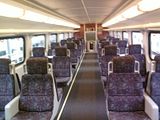 I was on train 332 on car number 117. As we went along, we did stop at one station (22nd Street) and slowed down through others (Bayshore, South San Francisco, San Bruno). After leaving 22nd Street, we were able to see the light towers of Candlestick Park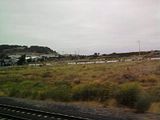 home of the NFL San Francisco 49ers. I did also see the control tower for SFO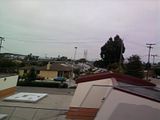 It is the closest I have been to SFO since 1996 when I had to change planes there flying back from Kansas City to Portland. As we left Millbrae, I did see a QANTAS 380 on approach. My first sighting of the largest passenger jet! What a day!
We did stop at Milbrae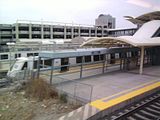 which is the peninsula end of BART and a sort of maintenance yard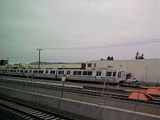 We went along cruising through some stations and stopping at a precious few. There are no amenaties aboard the Baby Bullet. I was dying for a coffee and a rest room, but none to be found. I don't know where these stairs are but I thought they were cool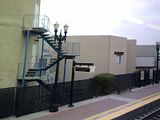 We got to Redwood City and had a great view of the dome of the county court house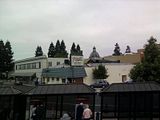 At Mountain View, we started getting into VTA territory.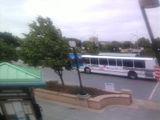 That is the transit agency based in San Jose. It seemed, at that point, that we were stopping more and more. We did end up passing a local train also headed to San Jose at Lawrence, near the end of this part of the journey.
The reason, I discovered, we were stopping more and more is there is the CalTrain maintenance yard in the area.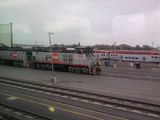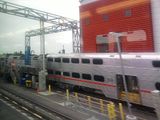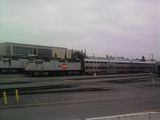 I always get antsy near the end of a rail journey. Especially when I am going to be someplace I had never been before. I had been to San Jose one other time for about an hour. I was in the middle of the Silicon Valley and didn't even know it. All you tekkies that want to make a pilgramige to the tech capital, don't bother. I was in the middle of it and didn't even know. All the big names in software and computers are there along the VTA light rail, but they are in non-descript buildings. Nothing to see, really. Just a bunch of office buildings. However, if you do insist on going just to "see for yourself" (I have done the same thing with airports) take the light rail to where the blue and green lines run on the same track.
Pretty much all of that is the "Silicon Valley" area.
Since I had seen that already, I decided to see what else there is to do in San Jose. When I finally got off the train, I found I had a half hour between light rail trains into downtown.
From the train station, I did see the Adobe offices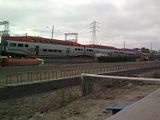 and the "Shark Tank"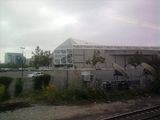 (BAH!! Canucks rule!) until finally, a VTA light rail train showed up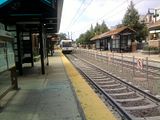 That train took me across the Guadalupe River Parkway (it finally started clearing up about then)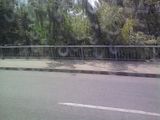 and in front of the San Jose Convention Center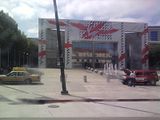 to the Santa Clara County Courthouse. I was on a total of three VTA trains: 927, 984, and 992.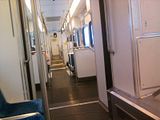 I saw the Gates of San Jose State University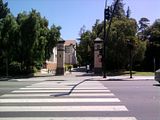 but not Spartan Stadium. I didn't realize that is in a different part of town. Oh, well. I had two cups of coffee by then, so I was set!
The Capital Corridor runs from San Jose to Sacramento. It is open seating. I, naturally, chose a seat on the upper level. AMTRAK used to have a sloagan: "See America from See Level!" It is so true. If you have ever been aboard a Superliner, you know what I am talking about. One thing I like about riding rails is I can laugh at all the people stuck in traffic. They are all frustrated they are not moving and I am sipping a beverage of some sort and eating. I had a chicken ceasar wrap, by the way.
From San Jose to Richmond, I was on car 8314.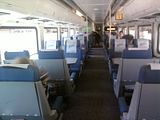 Until Oakland, there was a lot to see. I had only been that way once, so I was actually on both sides of the coach. The tracks passed the north end of San Jose-Mineta International. Mexicana was at the gate waiting to return to Mexico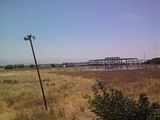 We also went by Great America. Some of the rides look pretty good.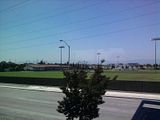 And past some salt flats and a processing plant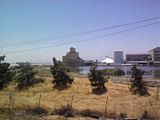 It reminded me of Utah.
There really was not a lot to see in the South Bay. I was surprised. We could see the "back" of the train
The engine was pushing the coaches to Sacramento. There is an operator cab in the lead coach. We passed over a major canal at Niles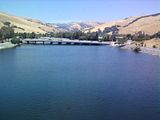 and the Fremont BART yard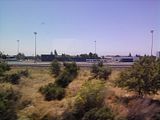 When things started turning "industrial" I knew we were getting close to Oakland.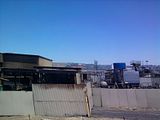 We did make a stop at Oakland Coliseum and Oracle Arena. There is a special stop for that. With all the people that go to Raiders games, it makes sense. There is also a BART station there as well.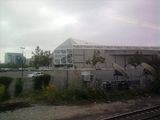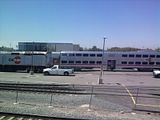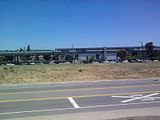 The Capital Corridor parallels 580 for a time. There is no real way to widen the 580 southbound because there is a building where a guard rail should be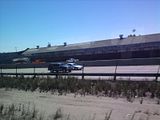 It is even more intimidating when you are driving!
There are three AMTRAK trains that stop at Jack London Square
Besides Capital Corridor, there is also San Juaquins which runs between San Jose and Bakersfield, and Coast Starlight which runs between Seattle and Los Angeles by way of San Jose, San Luis Obispo and Santa Barbara.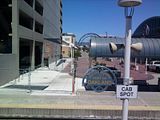 The tracks go right down the middle of the street. Going back to my earlier point about jaywalking, people just seem to wander out into the street. Small wonder we were creeping along!
There is a Capital Corridor/San Juaquins maintenance yard in Oakland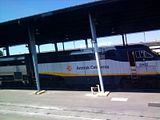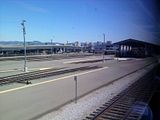 between Jack London Square and Emeryville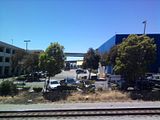 Yes, I had to show IKEA. The train goes right next to it!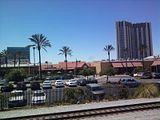 We passed a southbound train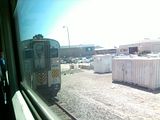 but I don't know if it was Capital Corridor or San Juaquin. It was being pulled by the engine rather than pushed.
There are views of the Bay and the Golden Gate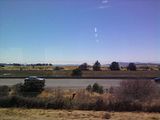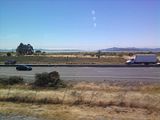 once the fog clears out. I finally made it to the last station that AMTRAK shares with BART: Richmond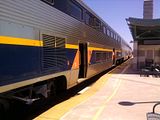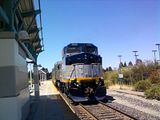 There, I got on the very first BART train that left the station: A 3 car train to Fremont. Car number 1737. The next station after Richmond is El Cerrito Norte. When I got back, I found my car was in one piece! Over all, it was a good experience. I don't know what my next rail adventure will be. There are so many. Check back (but not too often. I am on a budget, people!)